The Francinest site on the web - www.francine.st!
ONE STEP FURTHER -FANITUOTTEET NYT NETISSÄ!!
Nyt voit tilata Francinen UUDET fanituotteet netin kautta.
Order NEW Francine merchandise ( T-shirts, hoodies, albums...)
Just click the link!!:
LONGPLAY MUSIC


FRANCINEN KEIKKAMYYNTI 1.12.2008 ALKAEN!!
Francinen keikkamyynnin ottaa haltuunsa 1.12.2008 alkaen vanha tuttu Lena Haapala, joka on siirtynyt Dex Viihteen palvelukseen.
Yhteystiedot:.
Lena Haapala p.0400-265327
lena.haapala@dexviihde.fi
DEX-VIIHDE
HUOM!! Kevään 2009 keikat päivitetty kalenteriin!! Check it out!!!
NEWS*****NEWS*****NEWS*****NEWS*****NEWS*****NEWS*****NEWS*****NEWS
HUOM!! NÄMÄ SIVUT(francine.daug.net)SULJETAAN 31.7.2009!! Elokuun alusta ainoastaan www.francine.st vie oikeille sivuille!!
[23.07.2009] UUSIMME FRANCINEN NETTISIVUT LÄHIAIKOINA!
Pieniä ongelmia vielä noiden uusien sivujen kanssa, mutta luultavasti jo tällä viikolla saamme uusitut nettisivumme verkkoon. Jatkossakin sivujen osoite tulee olemaan vanha tuttu www.francine.st
Sen sijaan vanha palvelin daug.net vaihdetaan uuteen.Uutuutena uusille sivuille vieraskirjan tilalle tulee oma Francine forum, jonne toivomme kaikkien rekisteröityvän!! [13.05.2009] KEIKKAKALENTERI TÄYTTYY KOVAA VAUHTIA!!!
Francinen keikkakalenteri ensi syksylle 2009 ja keväälle 2010 täyttyy kovaa vauhtia.Tsekkaa kalenterista uudet keikat! Marraskuulle suunnitteilla Keski-Euroopan rundi. Stay tuned!! [17.04.2009] SALON KEIKKA 17.4. PERUTTU!!
Olemme joutuneet perumaan keikan Salossa 17.4. sairastapauksen vuoksi. Korvaava keikka Salossa heitetään 12.6. [11.12.2008] FRANCINE JA VOLBEAT YHTEEN SOPPII!!
Francine ja ja ehkäpä tämän hetken kuumin bändi Euroopassa tanskalainen Volbeat esiintyvät 22.1. Oulussa(Club Teatria) ja 26.1.Tampereella (Pakkahuone).Oulun keikalle myynnissä vielä lippuja lippupalvelun kautta.
Keikat ovat osa Volbeatin Suomen kiertuetta.
[1.12.2008] "ONE STEP FURTHER" OUT IN GERMANY 5.12.2008!!
Germany's finest Punk, Ska, Billy and Swing Label WOLVERINE RECORDS will release "One Step Further" CD album in Germany 5.12.2008!! The CD will be available also in Austria, Benelux,Switzerland and Japan. The new album will be also available from INTERPUNK in the middle of December!
[20.10.2008] FRANCINE RADIO ROCKIN DJ-VIERAS 20. - 24.10.!!
Antti ja Pete ovat tämän viikon DJ-vieraita Radio Rockilla. Kuuntele mitkä biisit liikuttavat herroja.Maanantaista perjantaihin klo 15.15 ja klo 17.40. Voit kuunnella jälkikäteen jutut ja biisit osoitteesta:
RADIO ROCK PODCAST
[20.10.2008] FRANCINE JA VOLBEAT YHTEISKEIKALLE!!
Francine ja ja ehkäpä tämän hetken kuumin bändi Euroopassa tanskalainen Volbeat esiintyvät 26.1.2009 Tampereen Pakkahuoneella.
Keikka on osa Volbeatin Suomen kiertuetta.
[16.10.2008] DOWNLOAD THE NEW ALBUM!!
Download now "ONE STEP FURTHER" from MTV3 Download store!
Price is only 12,50 € or you can choose which songs you wanna download ( 1,38 €/song )
MTV3 DOWNLOAD HERE
[05.10.2008] I DON't GIVE A DAMN- VIDEO!!
New video now available on YouTube
Video was filmed in "Summer of Rock"- festival,Kouvola 16.8.2008 by Kaihi Productions
[11.9.2008] "ONE STEP FURTHER" on charts in Finland!!
Francine has entered the official Finland Top 40 album chart at #21 Thanks people!! [03.09.2008] NEW ALBUM OUT NOW!!
Francine released new album ONE STEP FURTHER 3.9.2008!
Album contains 13 new songs.In Finland album is released by Poko Rekords and worldwide by Wolverine Records (international release date in October)!!!!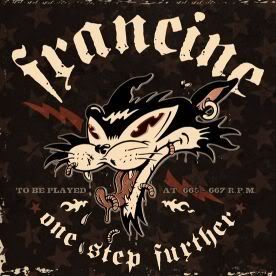 [13.07.2008] LISTEN THREE NEW SONGS!!
You will now find three NEW SONGS from our new album "ONE STEP FURTHER" from our MySpace profile!
FRANCINE MySpace
[07.04.2008] Keikkalistaa päivitetty!
Ensi syksyn levynjulkaisurundille lisätty 8 keikkaa
Tsekkaa uudet keikkapäivät kalenterista!!
[01.04.2008] THANKS!
King for a day tour is over.Thanks to everyone who came to see us in
Germany, Netherlands and Czech.We had so much fun during the tour!!!
Special thanks to Fussl (Torpedo Booking)
We will be back very soon!!!
You can check out the tour pics from our
MySpace
[27.02.2008] KING FOR A DAY TOUR 2008!
Hello Europe, Here we come!!
Check out the confirmed dates for a "King for a day Tour 2008"!!
13.03.2008 Essen,Capribar,GERMANY
14.03.2008 Eindhoven,The Rambler,NETHERLANDS
15.03.2008 Berlin,Wild at Heart,GERMANY
16.03.2008 Prague, Club Bordo, CZECH
17.03.2008 Brno, Club Faval, CZECH
18.03.2008 Zlin, Club U Tetoura, CZECH
19.03.2008 Regensburg,Underground/Alte Mälzerei,GERMANY
21.03.2008 Konstanz,Contrast,GERMANY
22.03.2008 Heilbronn,Stereo Total,GERMANY
Myös ensi syksyn levynjulkaisurundin myyminen on aloitettu.
Tsekkaa kalenterista jo vahvistetut keikat!
[22.2.2008] FRANCINE SHOP
NOTICE!!! Shop is now available in several languages!!
Nyt voit tilata Francinen fanituotteet netin kautta. Uudet tuotteet (mm.ladyhupparit ja pinkit ladyfitit)nyt tilattavissa!!!! Kauppaan pääset klikkaamalla / Click the link!!:
FRANCINE SHOP [30.11.2007] FRANCINE TO TORPEDO BOOKING AGENCY!!!!
Francine has a new booking agency also worldwide!!
All gigs outside of Finland will be booked by
TORPEDO BOOKING AGENCY
Check out free dates for "King for a day '08 - European tour" in March 2008 from Torpedo Booking!!
[19.10.2007] FRANCINE DEX-VIIHTEEN LEIPIIN!!!
Francinen keikkamyynnin ottaa haltuunsa vuoden 2008 alusta
DEX-VIIHDE
Francinen keikat myy Janne Tokola p.044 520 3335
Kevään 2008 bändi viettää Suomen keikkarintamalla hiljaiseloa valmistellen uutta albumia, joka näkee päivänvalonsa elokuussa 2008!
Muutamia uusia biisejä ehtii vielä käydä kuuntelemassa loppuvuoden keikoilla
[9.10.2007] "KING FOR A DAY" ALBUM RELEASE IN GERMANY!!
Germany's finest Punk, Ska, Billy and Swing Label WOLVERINE RECORDS will release "King for a day" CD album in Germany 9.11.2007 The CD will be available also in Austria, Benelux and Switzerland. Francine will do a tour in Germany in March 2008!!
[23.9.2007] LATAA FRANCINE-SOITTOÄÄNIÄ!
Osoitteesta MTV3 STORE DOWNLOAD voit ladata King for a day-albumin itsellesi hintaan 12,50 € tai valita jonkun kyseisen albumin biiseistä soittoääneksi puhelimeesi!!! [15.4.2007] JUHLAKIERTUE OHI!
Francine kiittää kaikkia 20v. juhlakiertueella mukana olleita tuhansia ihmisiä! Teitte kiertueesta unohtumattoman! On aika kääntää seuraava lehti Francinen historiassa...
[19.2.2007] THE STORY OF FRANCINE DVD-LISTAN KOLMAS!!!
Uusi kokoelma nousi avausviikollaan Suomen virallisen DVD-listan kolmoseksi!
Nähtävästi kauppiaat eivät tienneet kumpaan listaan levyn laittaisivat, sillä levy löytyi vielä CD-puolenkin listalta sijalta 38.
Kiitos kaikille levyn ostaneille!!
CHECK OUT THE NEW VIDEO "TAXI DRIVER" FROM
FRANCINE VIDEOS
[3.2.2007] 20v-JUHLAKIERTUE KÄYNTIIN 9.2.!!
Francinen 20-vuotisjuhlakiertue starttaa 9.2. Jyväskylästä Kiertue koostuu 18 keikasta, joilla Francine soittaa extrapitkän setin, sisältäen biisejä kaikilta albumeilta vuosien varrelta!!
The Story of Francine CD/DVD kaupoissa 7.2.2007! [13.12.2006] THE STORY OF FRANCINE CD/DVD
RELEASE DATE 7.2.2007!!
Poko Rekords will release
THE STORY OF FRANCINE CD/DVD 7.2.2007!!!
The CD album contains 21 songs from years 1998-2006
+ new song "Taxi Driver"
In DVD you can check out all videos, some television shows, pics and
55 min long Francine 20 years-document!!! !!! Fans living outside of Finland !!!:
Get your Francine-albums from:WWW.CDON.COM
Francine INTERNATIONAL LIVESHOW BOOKINGS by
HFBOOKING [24.8.2006] FRANCINE SHOP AVATTU!
NOTICE!!! Shop is now available in several languages!!
Nyt voit tilata Francinen fanituotteet netin kautta. Uudet tuotteet (hupparit, ladyfitit, hihattomat paidat, kuvapaidat, pipot) nyt vihdoinkin tilattavissa!!!! Kauppaan pääset klikkaamalla / Click the link!!:
FRANCINE SHOP [25.1.2006] NEW BOOKING OFFICE!!
Francine's new booking agency:
Lena Haapala tel.+358 41 5328675
e-mail:lena.haapala@hotmail.com
Francine INTERNATIONAL BOOKINGS by
HFBOOKING [23.1.2006] FRANCINE on MySpace
Check out our MySpace site: FRANCINE MySpace [10.9.2005] "KING FOR A DAY" on charts in Finland!!
Francine has entered the official Top 40 album chart at #27 [31.8.2005] NEW ALBUM "KING FOR A DAY" OUT NOW!!
Check out the new video!! [8.8.2005] New sample songs in Francine's Jukebox!!!
Sample songs from upcoming album King For a Day are now added to Francine's jukebox!

[22.06.2005] Francine has been signed to Poko Rekords (member of EMI group)!!
The first release by Poko Rekords will be a new EP "You get me wrong" (out 15.6.2005). Francine's new album " KING FOR A DAY" will be out 31.8.2005!!!


[18.08.2004] Grand Arena Rock'n'Roll Party Live CD is out now! It includes four livesongs from Francine(the first released livesongs from Francine!)
Songs are Never let you down,Stonecold,Anything you do and Goodbye forever Other bands in album are Restless,Long Tall Texans,Whistle Bait and Flat Broke Trio. Order your copy from
http://www.junglerecords.fi

[18.06.2004] Where to buy Francine's albums ?
Francine's albums can be bought for example from cdon.com, we are not selling them from this site directly.
http://www.cdon.com/

[15.04.2003] "Anything You Do" music video released
The Music video "Anything You Do" is released and it is freely available from this website. Thanks to everybody who helped in the making of this video!
Download the video from here...

[08.04.2003] Some Francine's lyrics available!
Finally, some of Francine's lyrics are available from this website. Lyrics can be found from here or from the archive.

[08.04.2003] Francinen keikkapäiväkirja!
Francinen keikoista löytyy tarinaa täältä!
(Sorry, this information is only available for finnish fans)

[28.03.2003] Once and again!
New album "Level 8" released and Francine's website has been re-opened. The website was unavailable for quite some time, due to some heavy technical difficulties.

[28.03.2003] "Bye" music video released
The Music video of "Bye" is released and it is freely available from this website. Thanks to everybody who helped in the making of this video!
Download the video from here...

Enjoy the site,

-Francine